6-Day Tour From Casablanca To Marrakech Desert Tour
Traveling on a Morocco Tour in 6 Day tour from Casablanca to Marrakech  is like tumbling down a rabbit hole. It's a country of dizzying diversity, where outlandish travel tales of snake charmers, street theatre, vivid medinas, and hidden souks come alive. It's a land of mighty dynasties, ancient traditions, and modern sensibilities.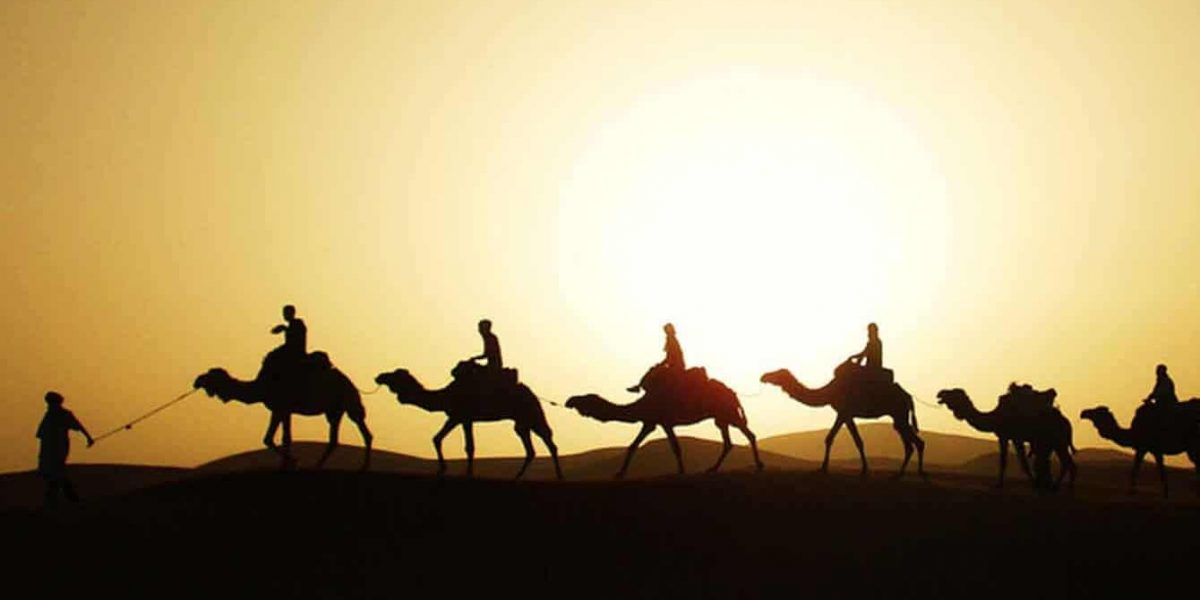 6 Days Tour From Casablanca to Marrakech Via Merzouga Camel Trek
Safe to Travel   

Nature 

 Price Inclusive     

  

Activities Optional   Flexible bookings   
Pick up & Drop Back
Instant Confirmation 
6-Day From Casablanca To Marrakech Via Fes
This 6-day itinerary offers a nice balance of historic and modern cities in northern Morocco. Seaside, mountains, deserts, ski resorts, culture, amazing food, and vibrant cities. This one week in Morocco itinerary guide might not be complete enough to show you everything the country has to offer, but it is enough time to hit the best places to visit in Morocco.
Browse through our 6 days Desert Tour  itineraries and choose one to enjoy an enchanting time in Morocco .
Take this adventure and experience an escapade that'll truly satisfy your wanderlust. This best of   adventurer's dream journey. 
6-Day Casablanca To Marrakech Via Merzouga Desert
This 6-Day Tour From Casablanac To Marrakech Via Fez Mereouga Desert guarantees a melting pot of cultures, colours and architecture. Travel from Casablanca to Marrakech, exploring Morocco's rich history with a European flair. Relive the middle ages in the medieval town of Fes and marvel at the contrast between old and new blended into the architecture and artworks. Encounter nomadic tribes and hop on a camel in the Sahara Desert. End off with the aromas of Marrakech wafting through the streets and relish quaint markets and cafes while sipping mint tea and reflecting on your Moroccan experience.
6 days desert tour from Casblanca To Marrakech Via Fes & Merzouga Camel Trek  summary :
Day 1 Travel from Casablanca To Fes Via Rabat and Meknes
Day 2 Explore Fes City With Tour Guide
Day 3 Travel to Sahara Desert Camel Trekking
Day 4 Merzouga To Ddaes Valley Via Gorge Of Todra
Day 5 Ddaes Valley To Marrakech Via Ait Ben Haddou
Day 6 explore Marrakech end of best 6 Day Casablana To Marrakech
HERE ARE THE 6-DAY  DESERT TOUR FROM CASABLANCA TO MARRAKECH HIGHLIGHTS :
Explore the medieval medina of Fez
Follow in the footsteps of ancient traders through the dramatic red dunes of the Sahara Desert
Immerse in the nightly carnival of fortune-tellers, snake charmers, and dancers in Marrakech.
Take in the views from Jebel Toubkal, the highest point in North Africa.
Savor mint tea, Berber whiskey, and traditional Moroccan dishes at a local home.
Step back in time while exploring ancient Roman ruins.
Go behind the scenes of Game of Thrones and Gladiator in Ait Benhaddou.
Soak in the culture and history in Morocco's holiest place, Moulay Idriss.
Practice your photography skills among the vivid blue houses of Chefchaouen
from fez , fez desert tour , best 6 days tour
Itinerary of

Casabalanca To Marrakech Via Fes & Merzouga 6-days desert tour details:
Start in Casablanca To Marrakech Via Fez & Merzouga Camel Trek ! With the adventure tour 6-Days Casablanca to Marrakech Desert Tour with Luxury Camp, you have a 6-day tour package taking you through South of Morocco and  many other destinations around the best of  Sahara Desert. 6 Days to  Marrakech from Casablanca  with Luxury Camp includes accommodation in a hotel as well as an expert guide, meals, transport…..
This tour has been designed for the traveller eager to explore deep into the Morocco Sahara Desert and who don't mind driving long hours. You will have an amazing time touring the Desert and Merzouga Old Medina Oasis Imperial Cities…, you will definitely not feel a drop of boredom. The landscape changes dramatically. Then to the rocky plateaus and the unbelievable Erg Chebbi sand dunes. Just make sure you bring your camera because you'll see sites you've never seen before; sites you simply couldn't imagine in your wildest dreams.
Day 1 Travel from Casablanca To Fes Via Rabat and Meknes
After meet your driver in airport your Great Tour will start driving to Center of biggest City in morocco Casablanca is one of influenced architecture Europe like France, Casablanca is famous for its art deco buildings and beautiful, Guided Tour of Hassan II Mosque (MAD130), after that visite Ricks Café Film of Casablanca.conitinue driving to Captila of Morocco Rabat. Just a one hour train from Casablanca, Rabat's history is rich and long and the beautiful historical landmarks are a testament to this. There are plenty of ancient Arab monuments, some of which date back to the 10th – 15th century.  Formerly known as Sala, Chellah is the earliest known settlement in Rabat. You enjoy the history on a walk through the city's old quarter before marvelling at spectacular views over the Atlantic Ocean at Kasbah des Oudaias., after lunch take route to Meknes, Meknes is filled with sight-seeing opportunities. Marvel at the monuments in the city from the Heri es Souani Granary, a colossal architectural accomplishment, to the crumbling palaces , Later we make our way to Volubilis, traveling through beautiful rolling hills and olive plantations. Once a provincial Roman capital, the remaining ruins of the empire is the reason Voulbilis is now listed as a World Heritage Site. Later late Afternoon arrive to fes to gest some rest from long day discovering the magic of Morocco. night in Riad
Day 2 Explore Fes City With Tour Guide
Fès is a fascinating mix of past and present. While the new part of the city is very modern and clean, the old medina will make you feel like you've traveled back to medieval times. You will had a local guide , which was immensely valuable for spending the day efficiently. After breakfast, start our day with an in-depth view and knowledge of the ancient craft of the Zellige. Visit the Royal Palace before proceeding to the main entrance of the medina, Bab Boujloud also known as the blue gate (the most famous gate in Morocco). Roaming through the winding and narrow streets to find for the world oldest and continually operating university – al-Qarawiyyin Mosque; admire the beautiful Marinid architecture – Madrassa Bou Inania and the largest and best-known tannery in the heart of the souk – Chouara Tannery.end of day Night in Riad .
Day 3 Travel to Sahara Desert Camel Trekking From Fes
Today you will leave Fes behind , long scenic drive to Merzouga Camel Trekking through the Middle Atlas mountain range, stopping at the alpine resort of Ifrane ( mean cave in Amazigh language ) to stretch your legs and have a coffee. As you will continue the journey south, you'll have amazing views of the country as we approach Midelt, renowed as the apple capital of Morocco, where you will stop for a deliciously light lunch. Your journey goes on with a visit to the French Foreign Legion outpost of Errachidia and then through oasis of the Ziz valley.
Upon arriving in Merzouga, you'll have a chance to relax before mounting up and partaking on an enjoyable camel ride through the desert dunes to view the sunset. As the sun goes down and the wind picks up, you'll have an amazing feeling come over you as your inner explorer awakens to your seemingly endless desert view.
Afterwards, return to camp where you will have dinner and enjoy local music before settling down to sleep in the desert camp. As you enjoy the night, make sure you take in the amazing sights of the star filled night sky, promising an unforgettable experience.
Day 4 Merzouga To Valley the Rose Via Todra Gorge
Enjoy a real Lawrence of Arabia moment this morning with yet another camel ride, this time for unforgettable sunrise across the desert. After breakfast drive to Todra Gorge (approximately 4.5 hours), a massive trench that rises over 250 metres to form one of the most dramatic and spectacular natural sights in Morocco. The limestone stacks make a perfect area for trekking, and so today you will take a short walk through the sheer cliffs. Then continue to the beautiful Dades Valley (approximately 1 hour), where you will stop for a break and have some time to take in the remarkable scenery – sprawling green valleys and rocks sculpted into stunning formations by the wind. Continue your journey inland to the M'Goun Valley (approximately 1 hour) where you will have a chance to observe the customs and lifestyle of the Berber people.
Day 5 Ddaes Valley To Marrakech Via Ait Ben Haddou
Today you will enjoy a city tour of Valley the Rose, beginning with the Taourirt Kasbahwhen you arraive to Ouarzazate. The latter is considered one of the most beautiful Kasbahs in the south of Morocco. Next, visit the film studios, where some of the most famous desert landscapes were and are still being shot. Continue on to the spectacular fortress of Ait Ben Haddou, the iconic landscape immortalized in such films as, Lawrence of Arabia and Gladiator. Leave Ait Ben Haddou crossing the High Atlas Mountains via the magnificent Tiz In Tichka pass (2262m) to Marrakech for overnight.
Day 6 explore Marrakech end of best 6 Day Casablana To Marrakech
After breakfast today, meet your local guide and set off on a morning tour of the old medina, through the bustling souks that are the lifeblood flowing through the city. Explore tranquil courtyards filled with the scent of orange blossom and the many salons and chambers that make up Bahia Palace.Onward, stop by the Koutoubia Mosque; its famous minaret is the prototype for others of its kind around the world. Then walk back through the streets of the old medina to Djemaa el-Fna. Later visit Le Jardin Secret, a traditional medina garden revived for the 21st century., then climb its tower for views across the medina. Other possibility is to visit the tropical gardens of the French painter Jacques. Otherwise, head back into the medina, where every step brings a new smell, a new sight or a new gift to buy. Watch skilled artisans perfect their craft, practice your haggling skills or take a break from the hustle to sip on tea or share a tajine, filled with the pure scent of Morocco. End of Best 6 Day Tour From Casablanca To Marrakech
Pick-up & drop off at/from your hotel, Riad or Airport

 Transport by private vehicle with A/C

 Driver/Guide speaking English

Mosque Hassan II

Visit Rabat

Meknes Volubilis

Fes Tour Guide

 Camel Trekking ( Camel per person)

 Overnight in Desert Camp (Breakfast & dinner)

 SandBoarding (if interested)

 Fue
✘

Gratuities 

✘

Lunch

✘

Drinks

✘

Tips
Fez Desert Trips you might also like :
6 Day Tour from Casablanca To Marrakech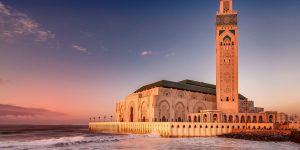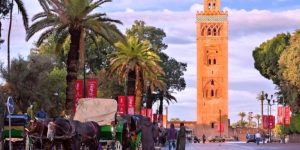 Fez Desert Tours Packages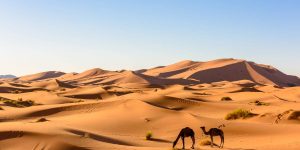 Fez Full Day Trip Packages