Best 4 Days Tour From Fes To Marraekch Via Merzouga  – 4 days tour from Fes to Marrakech – Desert Tour in 4 Days – 4 days desert tour from fez
 4-Days  tour from Fes to Marrakech Itinerary Covering:  Fez –  Ifrane -Merzouga -Ouarzazat- Marrakech
4 days tour from Fez to Marrakech & 4 days desert tour from fez : Morocco Tours Travel | Marrakech Adventure Tours | 4-Days 3 Night Marrakech Desert Trip |4 days desert tour from fez | 4 Days 2 Nights FEZ  Holidays | 4-Days 3-Nights Morocco Wildlife Holidays Tours | 4-Days Deseret trips, holidays and vacations | Desert Tour in 4 Days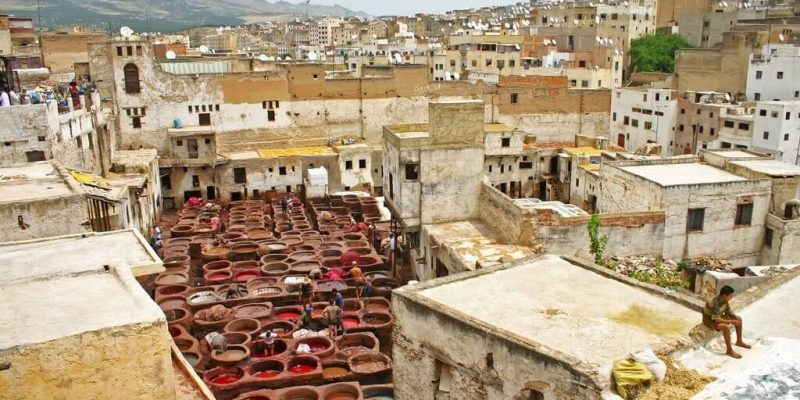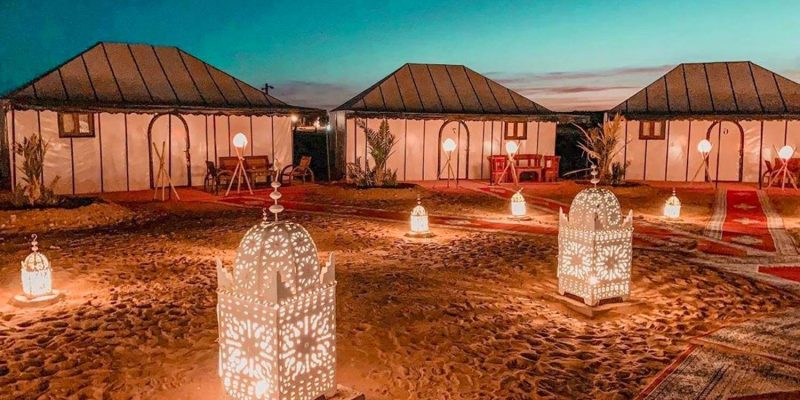 4 Days Tour From Fes to Marrakech
Safe to Travel   

Nature 

 Price Inclusive     

  

Activities Optional   Flexible bookings   
Pick up & Drop Back
Instant Confirmation 
4 Days Tour From Fez To Marrakech Via  Merzouga Desert Tour
 If you want to explore Morocco Desert and you are on a budget, then our Cheap Morocco Marrakech desert tour package is a right choice for you.  4-days 3 night special package includes meals, accommodation, transfers and sightseeing activities. 4 days tour from Fez to Marrakech, 
Are you planning to visit morocco Sahara Desert ? We have specifically designed tour packages covering numerous parts of the country here. Take up the classic golden triangle tour or  best 4-days desert tour  if you are looking for a flawless time. If you love heritage and culture, you can take up World Morocco tours to explore the 4 Days desert Tour from Fez . Do you love nature? Take the south Morocco  hill station tour or the Marrakech desert tour. Are you planning a relaxing time? You can choose nightlife style Sahara Desert  tour packages or stick with World Morocco  spiritual vacation time.  4 days tour from Fez to Marrakech, 4 days tour
Fez To Marrakech Desert Tour include 4WD Red Dunes Drive, Sandboarding, Camel Ride, Henna Art, Falcon Interaction, and an optional ATV Quad Bike Ride. Beverages are also available at the event site as an option. Fez Desert TRIPS  starts with a pick-up by a safety equipped 4WD land cruiser from your accommendation hotel or Riad . Hence, passing the magnificent beauty Landscape Nature Valley… 4 days tour from Fez to Marrakech, 4 days tour
While the drive, your designated safari guide will explain all of your questions about Fez Desert Tour  activities. Gives you some tips about the event. Once you arrive at the Marrakech Desert Tour  start point, It's time to off-road into deep Red Dunes. At this point, make your camera handy and get ready to take photos of sand dunes, which seems like a giant bean-bag. While a short pause to meet our other cars convoy, Prepare yourself for the dune bashing activity. Your vehicle cruises toward the highest dune edges and swing slide down again and again, in safe manners. 4 days tour from Fez to Marrakech, 4 days tour
Browse through our 4-days Desert Tour  itineraries and choose one to enjoy an enchanting time in Morocco . 
4-Day Fez to Marrakech via Merzouga desert trip
One of the most fascinating experiences You will ever had is  spending the night in the desert and, above all, seeing the amazing sunrise above the dunes and how the sun warmed the sand and its shapes and colors shifted every second. It's also amazing to go and see the sky so full of stars in absolute silence.4 days tour from Fez to Marrakech, ays tour from Fez to Marrakech, 4 days tour
Book Your 4-Days tour Fez To Marrakech desert tour with us ,Standard & Luxury desert tour option are availibale by your choice 
4-days desert tour from Marrakech to Fes summary :
Day 1: Fes — lfrane — Cedar forest — Ziz Valley — Merzouga desert .
Day 2: Off-road — Nomadic Families — Camel Ride & Desert camping
Day 3: Merzouga — Todra Canyon — Valley of Dades 
Day 4: Valley Dades — Ouarzazate — Ait Ben Haddou — Marrakech
HERE ARE THE 4-DAY  DESERT TOUR FROM FEZ TO MARRAKECH TVAI MERZOUGA DESERT

HIGHLIGHTS :
Cross the High Atlas Mountains with its pass of Tizi Ntichka
A multi-day, chauffeured tour from Fez to Marrakesh, via the Sahara
No need to backtrack: you'll get picked up in one city and dropped off in another
 Make the most of your transfer by ticking off top sights along the way
 Explore rural Morocco by foot, by air-conditioned minivan, and by camelback
Walk to the world heritage site of Kasbah Ait Ben Haddou
Climb up to Dades canyons
Visit Todra gorges and Tinghir oasis
Ride a camel in Erg Chebbi to watch the colour-changing sunset
Spend the night at a Berber desert camp at the Sahara desert.
Daily Itinerary of Private Fes To Marrakech Via Merzouga Camel ride 4-days desert tour details:

 
Day 1: Start the Tour  to Merzouga from Fes Via Ifrane Medlit High Atlas
In the first day of your Top 4 days Trip from Fes to Marrakech, pick up from your hotel around 8:00 am and departure to discover the the magic of south Est of morocco, inland through a variety of spectacular scenery like Ifrane City you you will stop for a while to discover valleys big station of ski, more beauty of the cedar  forests in the Middle Atlas and pine forest and barren, and Azrou is one the important place for handcraft center. We continue with beautiful rocky landscapes untile arrive to Midelt when you will have Lunch, in afternoons we travel to Merzouga sahara desert by pass between High Atlas mountain Tizi Nlaghamt to rich to Errachidia close city to desert from fez desert trip, We continue our traveling to the desert, camel trek into the beautiful Erg Chebbi dunes. With a backdrop of the orange-coloured Erg Chebbi sand dunes, the charming Saharan village of Merzouga feels wonderfully isolated, like the modern world has left it behind. On arrival, transfer to your hotel to store your luggage to rest from thge first day of 4 days tour from fes . 4 days tour from Fez to Marrakech, 4 days tour
Day 2 : Merzouga discovery tours  4×4 & camel trekking experience 
After breakfast in your hotel you "ll start the day by explore tye depth of Sahara Desert, Visiting the Nomads the fisrt community establish in area living in tent and discover more about they life, not far way  from nomads you will visite the mins od coals like principle work for people live there selling the stone …. After that you will visite the Khamlia near of Merzouga to enjoy the best of music Gnawa, after lunch ( berber pizza) ,Your local camel guide will be waiting for you to take you on a camel to enjoy attractive sunset to nomad tents where you will have enjoyable traditional Berber dinner under a starry sky, sweet & cool air in Morocco desert with a Berber show around a central fire pit where musicians banging drums, dance in a special way. the end of Second day of 4 days tour from fez to Marrakech. 4 days tour from Fez to Marrakech, 4 days tour 4 days tour from Fez to Marrakech,
Day 3 : Merzouga to Toudgha Gorges spened Night in  Dades valley 
After an unforgettable night in the middle of the Moroccan desert, you should get up early to enjoy the spectacular sunrise, when the color of the dunes combines with the shadows creating a mind-blowing sight. After having breakfast, you will ride camels for a couple of hours before going to Tinghir and Toudgha Gorge for lunch, where the orange limestones are separated by a 300m-deep fault creating a captivating sight. The road passes through Toudgha Valley. It's a wonderful place for a walk, you can wander along the river, through the gardens or up the road on the other side of the gorge. Later, we will continue to Dades Valley and Dades Gorge through a beautiful road that passes by green palmeraies and Berber villages. Dinner and overnight in a hotel in Dades gorge. 4 days tour from Fez to Marrakech, 4 days tour 4 days tour from Fez to Marrakech, 
Day 4 : Travel to Marrakech via Ouarzazate Ait Ben Haddou from Dades Valley
After savoring delicieuse Breakfast, your 4 days desert tour from fez to Marrakech start again from Dades Valley to Marrakech, continue driving the charming Villags of the region, your visited the city of Roses and Kasbahs and Oasis of Skoura towards to Ouarzazate the Hollywood of Morocco, you will visite cinematic wish has attraction of movies markers from all over the world with its biggest Studios Africa call "Studio Atlas" where filiming many and famous films like Gladiator, Kingdom of Heaven,…. . To Ait Ben Hadou Kasbah, a World Heritage site. Is the famous and important Kasbah in south est of Morocco, after lunch and rest in the village we continue drive pass the high atlas to rich Marrakech in Late Afternoon to your hotel, the end of best 4 days tour from Fez to Marrakech via merzouga desert. 4 days tour from Fez to Marrakech, 4 days tour from Fez to Marrakech, 
Hote Pick up and drop off in Hote / Riad

Transport by air-conditioned minivan

3 nights accommodation

Breakfast

Dinner

1 st day overnight in hotel in Dades

Second day overnight in a Tent in Merzouga desert

About 1 hour Camel Ride on the Sand Dunes of Merzouga

Entry/Admission – Ksar of Ait-Ben-Haddou

Entry/Admission – Gorges du Dades

Entry/Admission – Todgha Gorge

Entry/Admission – Merzouga Desert

Entry/Admission – Jemaa el-Fnaa
✘

Gratuities 

✘

Lunch

✘

Drinks

✘

Tips
Fez Desert Trips you might also like :
4-days Desert Tour  From Fez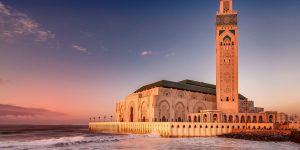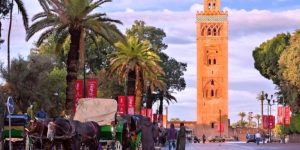 Fez Desert Tours Packages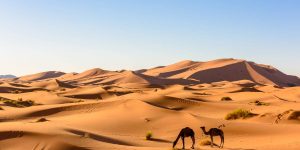 Fez Full Day Trip Packages