Day Tour From Fes To Meknes Volubilis
Historic Meknes, Roman Volubilis and Holy Moulay Idriss Day trip from Fes.
Day tour from Fes To Meknes | Top 1 Day trip from fez | Morocco Excursion Day Tour | Fes Excursion | Day Truip To Meknes From Fez | Fes To Meknes Volubilis in One Day Tour
Day Tour From Fes To Mekenes Volubilis Morocco
Discover Morocco's fascinating history on a full-day, small-group tour from Fez that explores the ancient Roman-Berber ruins at Volubilis, the pilgrimage town of Moulay Idriss, and Meknes' charming medina. With all transport in a comfortable, climate-controlled vehicle, this small-group tour includes pickup and drop-off at hotels in Fez . Full-day tour of three top destinations Visit Volubilis, a UNESCO World Heritage Site See the pilgrimage town of Moulay Idriss Tour the historic medina in Meknes Includes pickup and Fez hotels Perfect day trip for first-time visitors.
Overview and Highlights :
Don't miss your chance to visit Meknes and Volubilis in a sensational day trip.
Travel direct from your Fez hotel to Meknes and back.
Sightseeing tour of three historical sites: Volubilis, Meknes, and Moulay Idriss.
Travel from Fez in a private vehicle.
Hotel pickup and drop-off included
Full description about Day trip from Fez :
A Day trip fez  to Meknes and Volubilis, Volubilis will take you back in history. Discovering the power of the ancient Roman empire. On your Fes excursion, get ready to explore both culture and history of Moroccan impressive sites.
Day Trip from Fes to Meknes Volubilis :
Your fez to Meknes Volubilis day trip begins by picking you up from your accommodation in Fes city (Hotel/Riad), Then, drive through the captivating views of the Moroccan Countryside. First, we will stop in The Sidi Chahed dam reservoir built in the 1990s. This incredible dam is a perfect place to chill and a picnic. You will also have some free time to take pictures of the charming site.
Next, continue our day trip from fes to Volubilis. An attractive preserved Roman ruins, holding the most impressive historical and cultural secrets of the Roman old empire. You will be discovering the magnificent Roman architecture, by exploring the ruins of the Arch of Caracalla, Basilica and Capitoline Temple, and the fascinating old Royal houses. You'll also have a clear image about their ancient traditional works of mosaic art on the ground and majestic huge gates.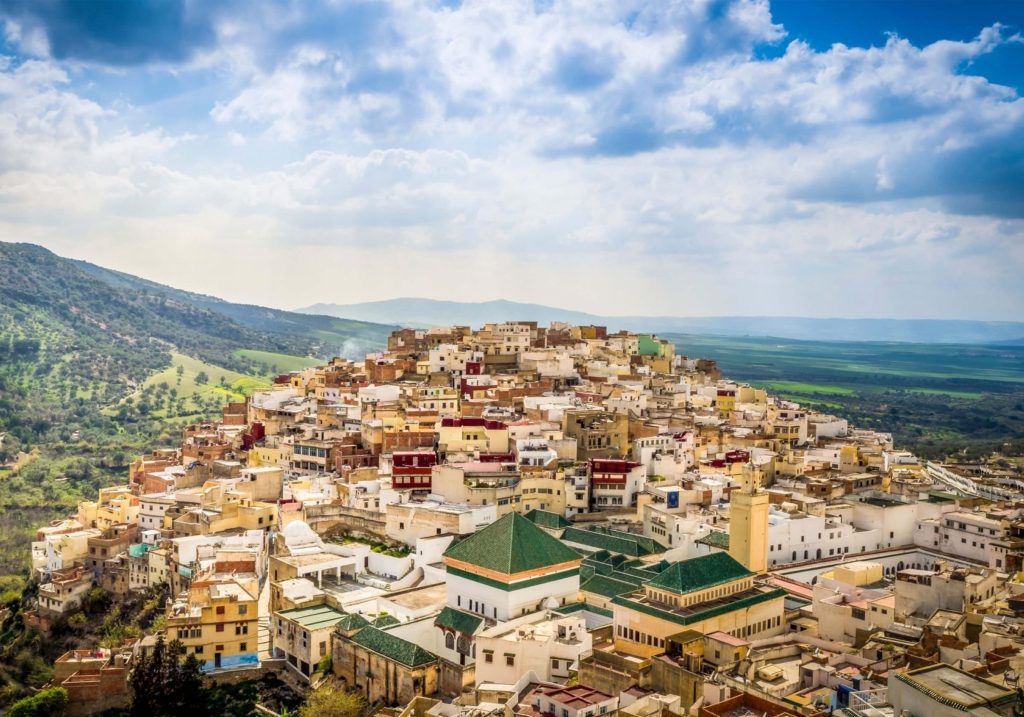 After that, our day trip from fes to Meknes Volubilis continues to Moulay Idriss Zerhoun "Morocco's holiest town". This small village has a large history and a big value in every Moroccan's heart. As it was once the home of the Idriss I, the first Moroccan ruler as the first one to bring Islam religion to the country. We will have enough time in the town. In order to explore its beautiful natural views, oldest houses, and the ancient Grand Mosque.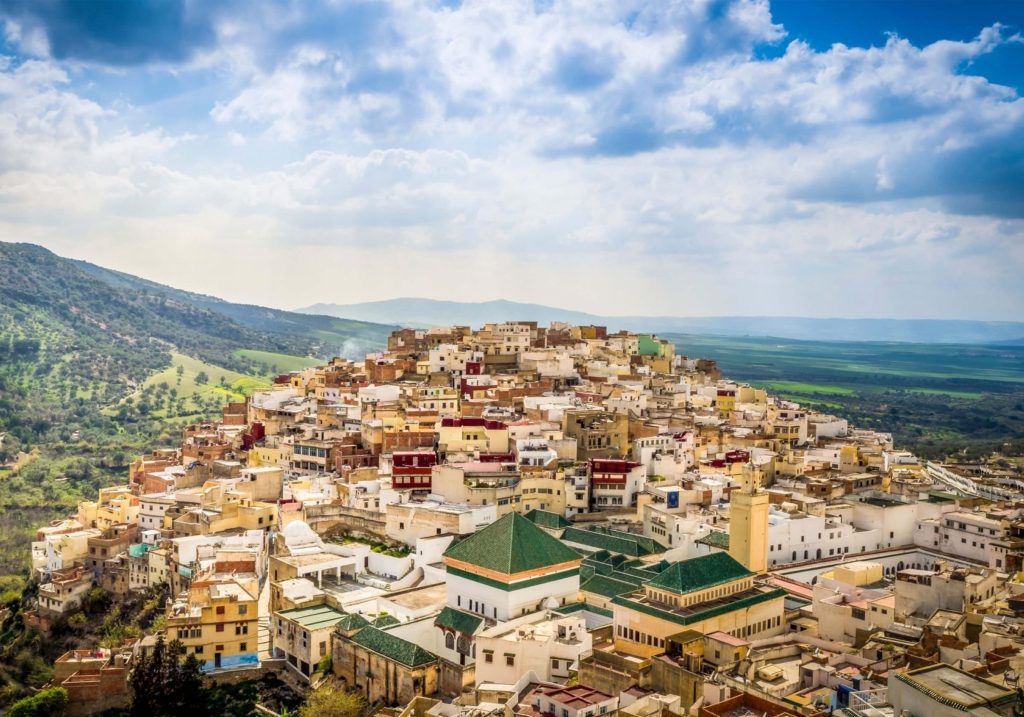 Later, move on our fez day trips to Meknes, an old Moroccan capital with wonderful Spanish-Moorish style. Meknes city, or "The Moroccan Versailles" is all surrounded by high walls with Royal entries. That perfectly combining between both Islamic and European architecture styles. Meknes also holds the most interesting Historical Monuments, as Bab el Mansour el Aleuj , Palais Dar Jamai, and El Hadim Square. Which is a central square where you can see the most remarkable Moroccan handicrafts and all sorts of entertaining activities. Giving a small version of "Jamaa El Fna" in Marrakesh. You will be also guided through the narrow streets; underground monuments, and royal stables.
After a memorable fez day trips to Meknes Volubilis, your driver will take you back yo Fes city. It is where he finally drop you off at your Hotel/Riad.
Map Day Tour From Fes To Mekenes Morocco