Erg Chabbi Merzouga Luxury Desert Camp Morocco
One of the most popular ways to experience the magic of the Sahara without spending too much time or money is to do an overnight trip from Merzouga, which is in the south of Morocco about 600 miles from either Marrakech or Casablanca.  From here a 4WD vehicle – or, if you're feeling adventurous, a camel train – will pick you up from your hotel and take you out into the desert where you'll be able to watch the sunset, bask in the feeling of insignificance as you gaze up at the heavens, and spend the night peacefully free from traffic and phones, before returning the next day. Glamping Sahara desert in morocco, desert camp in morocco, merzouga desert
A trip to Morocco would not be complete without a trip to the Sahara Desert. Riding off in to the dunes as the sun sets, spending the night under the starry African sky, drumming around the fire following an impressive Berber dinner, camping in a traditional Berber tent or watching the sun rise over the mountainous sand dunes. It's an unforgettable experience, that is, if you are prepared. Be sure to check out our useful tips to fully enjoy a trip to the Sahara Desert. Glamping Sahara desert in morocco, desert camp in morocco, merzouga desert
Luxury Camps or Glamping in Sahara Desert Morocco
The best Luxury camp in Merzouga located in heart of dunes. the Luxury camp's founders have built an enchanted oasis home to an encampment of storybook tents. It is a place to find peace and quite, and the kind of restorative solitude that only a desert can provide, If you plan a romantic night under the stars (there are special honeymoon tents) or you want to enjoy the desert in comfort, this is for you including private bathrooms.with delicious food .enjoyin the music around the fire berber music sand boarding…
From the Luxury camp in Merzouga will be many activity like joining a local Berber nomad family for tea or lunch. Or, visit and learn about the town of Rissani. Once a thriving center of commerce and an important caravan stop from Niger to Tangier,  today you can explore the old town's ruins and its thrice-weekly market. Glamping Sahara desert in morocco, desert camp in morocco, merzouga desert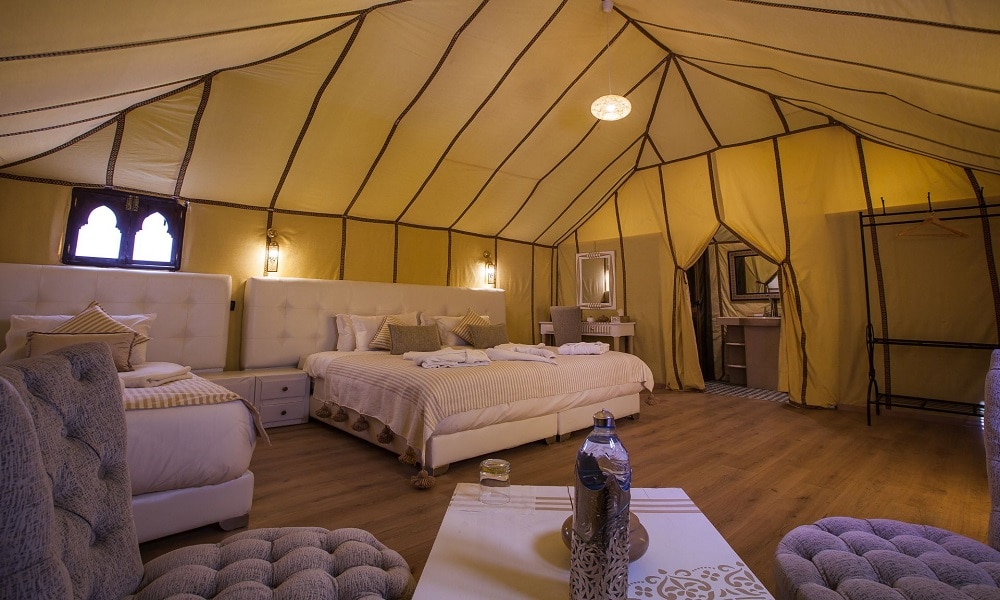 Morocco Sahara Desert Camps, Standard or Luxury Camps
The best Standard camp in Merzouga located in heart of dunes too. The standard camp's founders have built an enchanted oasis home to an encampment of storybook tents. It is a place to find peace and quite, and the kind of restorative solitude that only a desert can provide, including private bathrooms.with delicious food .enjoyin the music around the fire berber music sand boarding… more then that there all the camp have differnet size like twi, and Double, Trible .
From the Standard camp in Merzouga will be many activity like joining a local Berber nomad family for tea or lunch. Visit and learn about the town of Khamlia and Oasis and Rissani. Once a thriving center of commerce and an important caravan stop from Centre of to Tangier,  today you can explore the old town's ruins and its thrice-weekly market. Glamping Sahara desert in morocco, desert camp in morocco, merzouga desert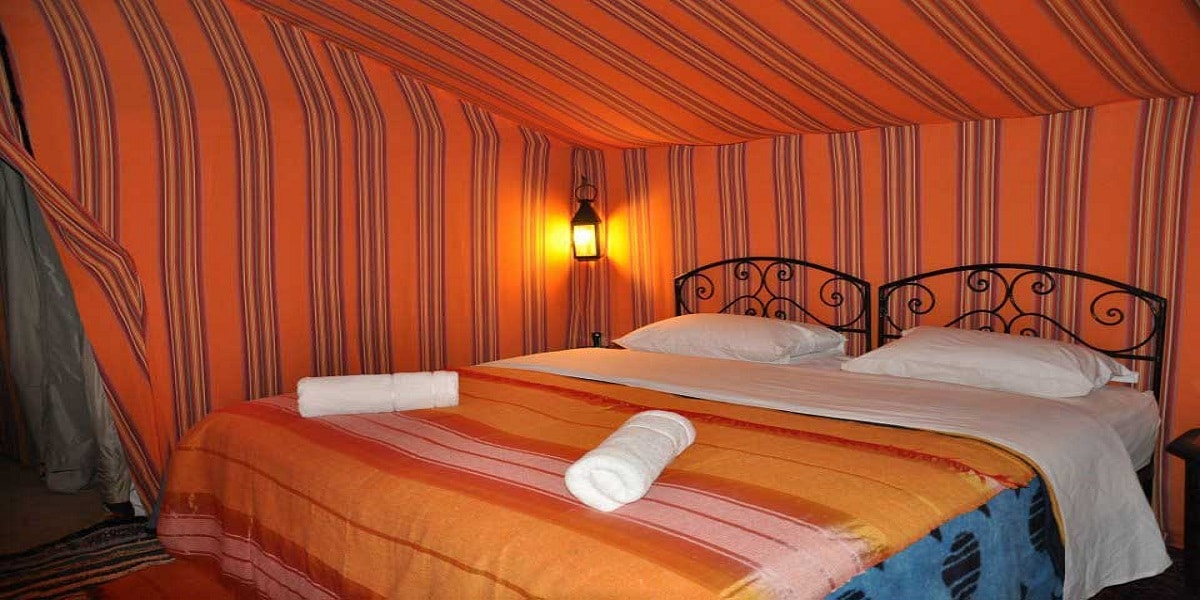 Wild Camps in Morocco and trek in Sahara Desert 
The trek in the Moroccan Sahara gives you an insight into this vast and diverse landscape as well as the Berber way of life. You will spend two full days and two half days trekking across ancient dried up river beds, sand dunes and vast sun-baked plains. Wild Camping each night gives you a chance to experience the stunning stars in the night sky (weather permitting) and the traditional Berber cuisine cooked by the team is a delight.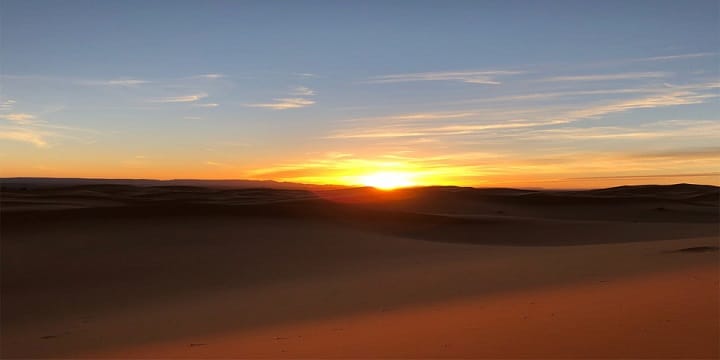 Marrakech excursion you might also like :
Merzouga Luxury Desert Camp
Safe to Travel   

Nature 

 Price Inclusive     

  

Activities Optional   Flexible bookings   
Pick up & Drop Back
Instant Confirmation 
Glamping in  Sahara Desert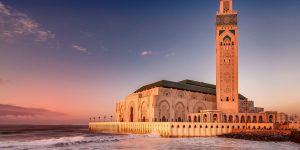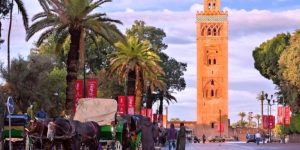 Fez Desert Tours Packages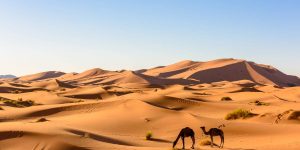 Fez Full Day Trip Packages