2 Night Camel Trekking in Merzouga Desert – Best 2 Nghit Camel Trek in Morocco
 If you want to explore Morocco Desert and you are on a budget, then 2 Night Camel Trekking in Merzouga  is a right choice for you.  includes meals, accommodation, Camel ride transfers and sightseeing activities.  Take up the Two Night Camel Trek in Morocco   if you are looking for a flawless time. If you love wilde lifeand Amazigh culture, you can take up World Morocco tours to explore the Two Night from Merzouga to Sahara Desert. Do you love nature? Take the south Morocco  the best of . Are you planning a relaxing time? You can choose nightlife style Sahar Night Camel Trekking in Desert packages or stick withWorld Morocco  spiritual vacation time.
Browse through our  2 Night Camel Trek Tour in Merzouga  itineraries and choose one to enjoy an enchanting time in Morocco .
Take this adventure and experience an escapade that'll truly satisfy your wanderlust. This best of   adventurer's dream journey. 
2 Night Camel Trekking over Merzouga desert trip
Merzouga is a Berber town at the border of the Sahara desert. Every tour going to the dunes will pass by Merzouga. The city itself is quite small and it is the departure point of the camel ride to the night camps in the desert. Usually, you will be able to ride a camel for a couple of hours in the sunset to reach the desert camp, in which you will sleep in comfortable tents. Before the night, a Berber dinner with music is provided to the guests. You will be able to spend the night as you wish, climbing the dunes and looking at the stars. Since the desert has almost no artificial light, the sky will be full of stars.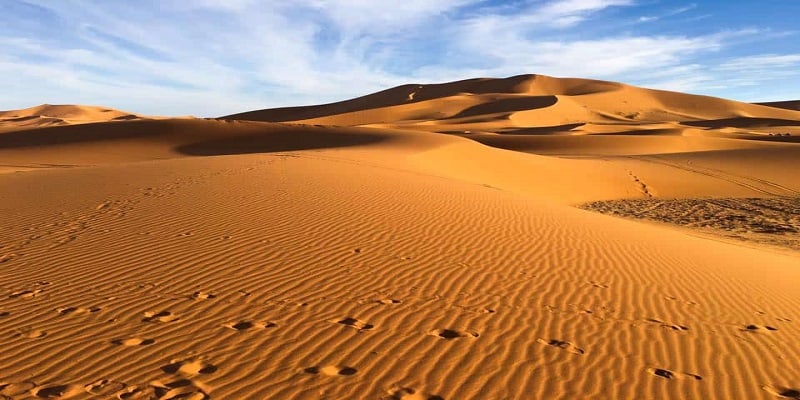 #Book Your 2-Night Camel Trekking over Merzouga desert tour with us ,Standard & Luxury desert tour option are availibale by your choice 
2 Night in Merzouga Camel Trek  summary :
Day 1: Satart take Camel Ride to Erg Chebbi to enjoy the Great Sunset – Camp

Day 2: Starting from the Camp – Black and Arid Desert – Aamzigh Nomad Family – Desert Camp

Day 3: Desert Camp and Riding Camel Back to Merzouga
HERE ARE THE 3 DAYS 2 NIGHT CAMEL TREKKING IN MERZOUGA HIGHLIGHTS :
Spend the night at a Berber desert camp at the Sahara desert.
Sip traditional Moroccan mint tea in the home of a Berber family in the Sahara Desert.   
Spend two full days in Desert Merzouga Noamd Life beautiful of Landscap sandboarding… 
Itinerary of

Private Camel Trekking in Merzouga and camel ride in 2-night  details:
Explore the Desert of  Morocco on the Ship of the Desert and spend an amazing night in the desert with this special 2 night camel trekking safari. Unwind in authentic Berber or Amazigh fashion and experience 2 night in the Desert of Merzouga campsite blended with entertainment, camel trekking and lip-smacking multi-cuisine Berber Pizza. fare. Enjoy Nomad dancing, henna painting, and shisha smoking, while relaxing in the plushy decorated Berber and nomad Desert Safari camp. Retire and succumb into deep slumber in the midst of the Desert and reel in the headiness of this recreation. End your 2 night Camel Trekking with a desert sunrise and breakfast while you soak in the nature before returning back to the Merzouga.
Day 1: Satart take Camel Ride to Erg Chebbi to enjoy the Great Sunset – Camp
2 Night Camel treks starting by meeting your desert guides & camel caravan when the camels are loaded with your luggage / equipment. Your guides will also help you to wrap your turban or scarf, ideal protection in the desert to spend great two night in middle of Sahara Desert. In the afternoon the trek follows the southern banks Erg Chabbi, to catch beautiful of sunset in the top of the dunes of Erg Chabbi On a clear day, you will experience spectacular panoramic views of the surrounding plains, dunes and mountains. In the evening, the beautiful orange dunes are replaced by the open expanse of the plateau.at the camp where you will spend the first night of camel trekking there will be have dinner and play music Berber Drums around fire .and  enjoying the  Sky starry.
Day 2: Starting from the Camp – Black and Arid Desert – Aamzigh Nomad Family – Desert Camp
In 2 day of Best of Camel trek in Merzouga after watching sunrise, take breakfast in the camp. You start day of trekking passing over the the "Black Desert" which the berber call "la Hamada", a plain desert landscape full of black volcanic stones. After Lunch with Nomad Family Bereber Pizza.we continue ride camel to discover more about desert and back to Sand dunes but this time with sand Broads and you will walk to watch another sunset from another place. Send night in the camp dinner. Nest day in the morning up early to watch sunrise and take camel back to Merzouga and have breakfasts and Shwoer in the hotel. And end of Best 2 night Camel trekking in Merzouga.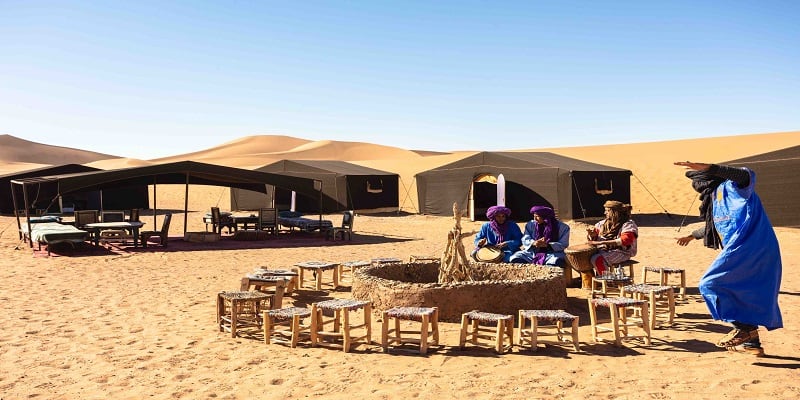 sunrise camel ride in Erg chebbi

Meals as mentioned in the description of the tour

English, French, Spanish or Dutch speaking guide in the desert

Accommodation in bivouac

Entertainment with percussion

Water and tea

Sandboard

Comfortable tent at a our Sahara desert camp

Sunset camel ride in Erg ChebbI

Breakfast

Breakfast, shower at the camp operator's lodge in Merzouga

 Dinner
Personal trekking kit (trekking boots, poles, etc)

 Personal travel insurance

 Alcoholic drinks

Tips and gratuities
Fez Desert Trips you might also like :
2 night camel trek around merzouga
2-Night Camel trekking in Merzouga
Safe to Travel   

Nature 

 Price Inclusive     

  

Activities Optional   Flexible bookings   
Pick up & Drop Back
Instant Confirmation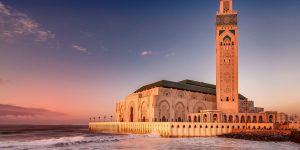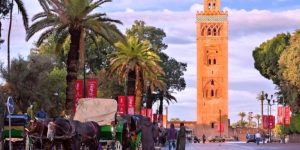 Fez Desert Tours Packages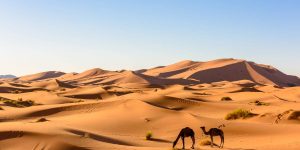 Fez Full Day Trip Packages