2 Days Merzouga Desert Tour From Fes
 2 Days Merzouga Desert Tour From Fes  - Fes Desert Trip 
 2 Days Merzouga Desert Tour From Fes Start your adventure to the amazing rocky desert from Fes and enjoy two days out of the city traveling to that place passing through the Atlas Mountains gives it another view on how you will spend the night at a stunning Moroccan bivouac.
2 Days Desert From Fez To Merzouga Desert Trip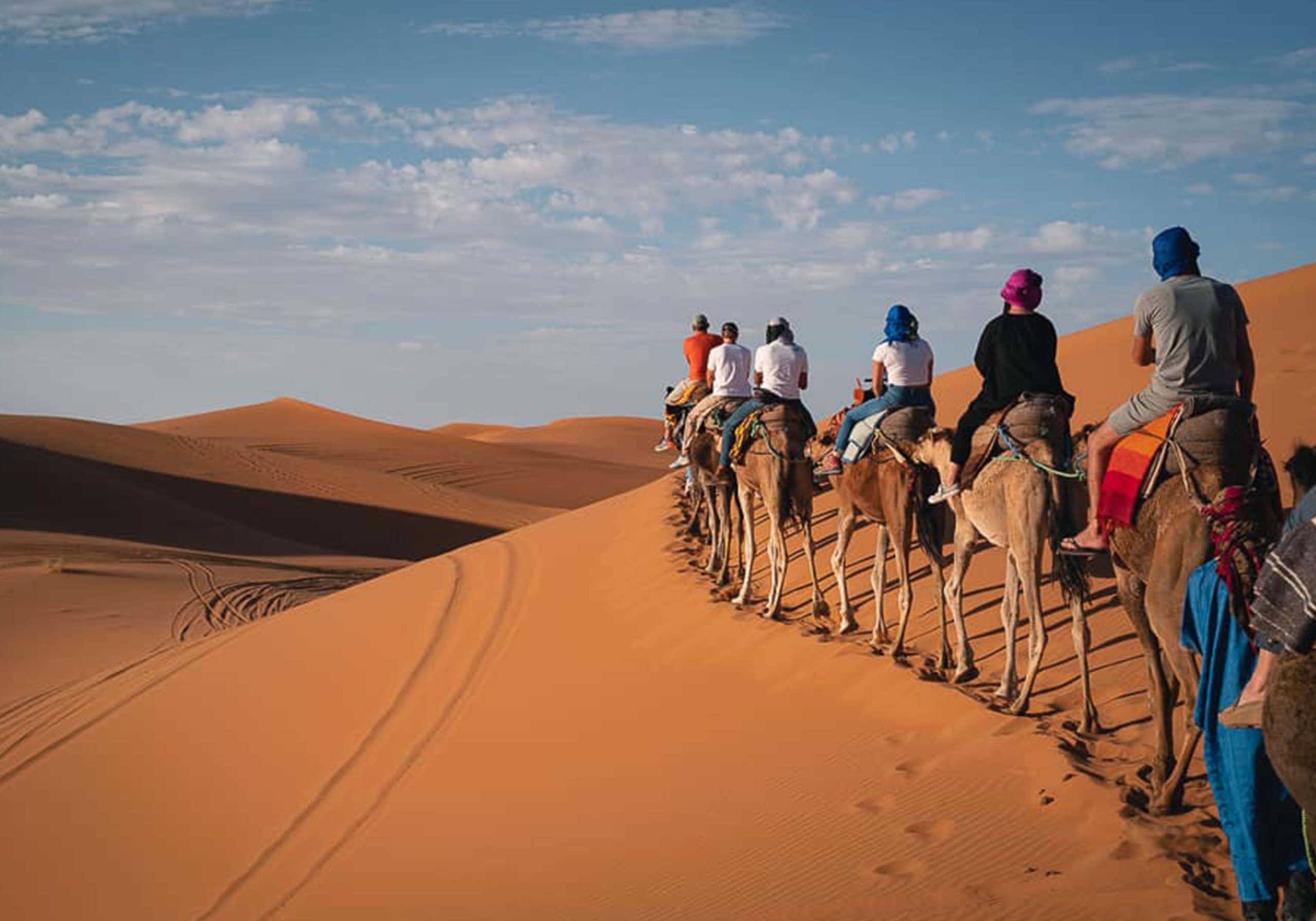 If you want to explore Morocco Desert and you are on a budget, then our Cheap Morocco Fes desert tour  is a right choice for you. These 2-days 1 nights special package includes meals, accommodation, transfers and sightseeing activities.  Take up  best 2-days desert tour  if you are looking for a flawless time. If you love heritage and culture, you can take up World Morocco tours to explore the 2 Days desert Tour from Fes . Do you love nature? Take the south Morocco  hill station tour or the Fez  desert tour. Are you planning a relaxing time? You can choose nightlife style Sahara Desert  tour packages or stick withWorld Morocco  spiritual vacation time.
Browse through our 2-days Desert Tour  itineraries and choose one to enjoy an enchanting time in Morocco .
Take this adventure and experience an escapade that'll truly satisfy your wanderlust. This best of   adventurer's dream journey. 
2 DayTour Fez to Merzouga Sahara trip
Merzouga is a Berber town at the border of the Sahara desert. Every tour going to the dunes will pass by Merzouga. The city itself is quite small and it is the departure point of the camel ride to the night camps in the desert. Usually, you will be able to ride a camel for a couple of hours in the sunset to reach the desert camp, in which you will sleep in comfortable tents. Before the night, a Berber dinner with music is provided to the guests. You will be able to spend the night as you wish, climbing the dunes and looking at the stars. Since the desert has almost no artificial light, the sky will be full of stars. 
2 days desert tour from Fez To Merzouga Camel Trek  summary :
Day 1: Middle Atlas: Erfoud, Merzouga and the Sahara
Day 2: Merzouga Rissani Ziz Valley Fes
Itinerary of Private Fez to  Merzouga camel ride 2-days desert tour details:
Start in Fez and end in Fes! With the adventure tour 2-Days Fez to Merzouga Desert Tour with Luxury Camp, you have a 2-day tour package taking you through Fes  Morocco and  many other destinations around the best of  Morocco. 2 Days  from Fes Desert Tour  to  Merzouga with Luxury Camp includes accommodation in a hotel as well as an expert guide, meals, transport…..
rThis tour has been designed for the traveller eager to explore deep into the Morocco Sahara Desert and who don't mind driving long hours. You will have an amazing time touring the Desert and Merzouga, you will definitely not feel a drop of boredom. The landscape changes dramatically. then to the rocky plateaus and the unbelievable Erg Chebbi sand dunes. Just make sure you bring your camera because you'll see sites you've never seen before; sites you simply couldn't imagine in your wildest dreams!
The First Day Starting from Fez to Merzouga Via Ifrane Middle Atlas Mountains
Departing from Fez you will begin your ascent into the Atlas mountains We will pass through Ifrane, a winter ski resort in a totally un-Moroccan style built by the French in the 1930s to resemble a Swiss village. Visit the cedar forest in Azrou and see the monkeys in the trees. Midelt Most of the day will be spent winding your way through the beautiful forests, springs, jagged rock faces, and Berber villages as you cross the Atlas Mountains and begin to descend towards the Sahara Desert. Half way, you will stop for lunch in the town of Midelt, famous for its fossils and rocks, then you will continue towards Merzouga  you will reach to Merzouga in the afternoon around , where your guide and camels will be waiting for you. After a short break, you will start a camel trek across the sandy dunes of the Erg Chebbi. See the desert landscape and sunset from the camelback, and after two hours you will reach to the desert camp to spend the night in a Berber tent. At your desert shelter, your camels are hobbled and mint tea is served. After dinner, watch the stars. Overnight in the tent.
the second Day back to Fes via Rissani Ziz Valley
Today we will wake up early to watch the sunrise. Then you take breakfast in the camp  later you we will ride the camels back to Merzouga to have a breakfast and to meet your drive and get ready  before returning back to Fez. We will drive through the middle Atlas Mountains and arrive at Fez in evening.
Cross the High Atlas Mountains with its pass of Tizi Ntlaghomt
Walk to the Ceder Forest and play with monkys
Climb up to hight atlas canyons
Visit Ifrane green and clean city in Morocco
Ride a camel in Erg Chebbi to watch the colour-changing sunset
Spend the night at a Berber desert camp at the Sahara desert.
Visit Azrou cedar forest /Sahara Camel trek excursion/Overnight desert camp
Private Transportation aboard a comfortable and air conditioned vehicle
Pick up from your Hotel/Riad in Marrakech (or from the airport)
Drop off at your Hotel/Riad in Fes (or at the airport)
English speaking Berber nomad driver
Fuel for entire Chebbi travel desert package
All nights accommodations
Camel trekking in Erg Chebbi dunes
Sandboarding in Erg Chebbi dunes
Berber music at night around the fire under stars in Erg Chebbi desert camp
Free stops when you want.
sunrise camel ride in Erg chebbi

Pick up from your Fez riad / hotel on the tour day ( or the closest accessible point )

Comfortable tent at a our Sahara desert camp

Sunset camel ride in Erg ChebbI

Sand boarding 

1 Breakfast / Dinner 

shower at the camp operator's lodge in Merzouga

Camel Ride

A/C modern minibus driven by an English / French speaking driver / guide ( Maximum of 17 passengers)

Accommodation included:1 nights
 Map 2 Days Merzouga Desert Tour From Fes